by John Coutu
What a surprise! It was early October and we were getting ready to go to Florida for a few months on November 1. My wife Maryellen casually told me that we had an appointment at Kaiser to get shots. I asked her, "Why do we need shots?" She seemed evasive, and said that we might want to take a cruse to Mexico. At Kaiser, the nurse came to me with a tray with two columns of needles. Fearing needles from childhood, I was not at all pleased with this.
We went to Florida and picked up our winter life at a condo we share with Maryellen's siblings. For Christmas, we went to New York for a routine visit this time of year with our daughters. That is when I got the surprise Christmas present from Maryellen of a ten day safari in Tanzania, Africa. To be more specific, it was my present for Christmas, Father's Day and my birthday this year and for an unspecified number of years to come. Don't ask me the cost. Maryellen didn't tell me and I was smart enough not to ask. On January 31 we started our flight to Kilimanjaro from Tampa via Detroit and Amsterdam. After many hours of travel we arrived at the Kilimanjaro airport. We stayed a couple of nights at Moivaro Lodge near Arusha. To summarize our lodgings on the trip, we had excellent service and thoroughly enjoyed all of the places that we
stayed. Some were more primitive than others.
We didn't want to waste any of our time in Africa, so on the first day we arranged a visit to a tribal village. We spent a few hours touring the village. We walked around the village with a guide who openly discussed the lifestyle of the people living there. We visited the hut of a woman whose husband had recently died. The husband had two wives and many children. The custom of this tribe was for the village to take care of the widows and children when a man died. On our walk I saw chameleons for the first time. We toured the village primary school and the secondary school under construction, and of course the people running the schools were eager to take donations. We ended the visit with a late lunch prepared by the village women with the village elder, equivalent to a mayor. It felt very strange to be in a real African village.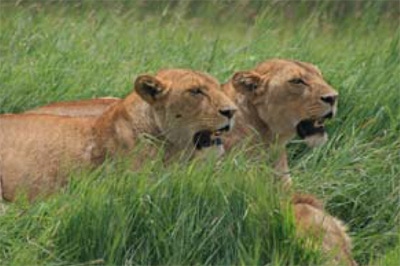 The next day our safari began. During the safari we stayed in a beautiful resort called Gibbs Farm that was on a mountain overlooking beautiful landscape. We also stayed at two tented camps, significantly more primitive than the resorts. Most of our wildlife safari time was spent in the Serengeti National Park and the Ngorongora Conservation Area. Maryellen and I traveled in an off-road vehicle with our guide. Each day was filled with long hours of travel, unbelievable views of wildlife, fantastic discussions with the guide about the tribes living in Tanzania and wildlife, and spectacular views of the African landscape.
While traveling in the Serengeti and the Ngorongora Crater we stayed in tented camps. We had an individual tent with a concrete floor. We had a nice bed to sleep in and got warm water in a canvas bag with a spigot to use for our showers. We had a flush toilet but only enough water for one or two flushes a day. We had very nice breakfasts and dinners in a shared tented dining area. During the night we would hear the sound of lions.

The temperature was very similar to what we had left in Florida. Each day we would leave early in the morning and return around sunset. Many times I was standing through the roof of our vehicle, viewing wildebeest, gazelles, zebras and other animals with an unobstructed 360 degree view as far as the eye could see with no sign of human life. We would occasionally come upon a dead zebra that had been killed by
lions.

By the time we arrived the hyenas were just finishing their meal and the vultures were taking over. We saw many large groups of hippopotami, elephants, giraffes, baboons, buffalo, warthogs, monkeys, and ostriches. More rare and difficult to find were the rhinoceros, silver fox, jackals, lions, crocodiles, cheetahs, and leopards. There were many varieties of beautiful birds. Our guide was in radio contact with other guides to communicate about special animal sightings.
The magnitude and variety of animals and birds is beyond my ability to adequately describe.
One of our significant adventures was the climb of Mount Makarut. I knew from the schedule that we would be going for a one day hike, but I didn't realize that it would be the equivalent elevation gain of a Mount Hood climb; over 5000 feet. We started early in the morning. The view as we climbed was magnificent. On the way to the top we passed two Maasai villages. The Massai women and children came out to greet us. The young children would put their heads in front of us to be rubbed, a Massai custom.
On the climb with Maryellen and I were two Maasai. One was a guide and the other was a ranger with a rifle to protect us from possible charging Buffalo. As Maryellen and I huffed and puffed, the guide sang beautiful Maasai songs. We had our own African concert along with a continually changing view of the landscape far below. The most primitive tribe in Tanzania is the Maasai. They travel with their cattle and
goats and are the tribe you see the most on the safari. The common language is Swahili. It is good to know a few common words before starting your safari.
The Massai live in groups of mud huts surrounded by walls of branches with sharp spikes to keep out the lions and other wild animals. Their primary diet is blood and meat from cattle. No thanks for me on the blood.
One of my lifetime hobbies has been photography. About three years ago I switched to a digital camera. To take the large number of photographs on the safari, I needed extra batteries, a battery charger, and an adapter to convert the US power plug to one for their outlets.
The natives generally expect to get money for having their picture taken; usually one US dollar. They are very sensitive about having their picture take without permission. I found it very difficult to take candid shots, without offending people. This was best done on a paid tour of a village.
I regret not having a decent digital video camera. I was glad to have my wife's camera as a spare. On previous trips something had gone wrong with my primary camera and I didn't have a spare.
Link to travel company: Africa Travel Resource, www.africatravelresource.com.