A Bike Ride and a Party with 8,500 Friends by Jim Hoffman
Many people want to know how Intel retirees spend their time; here is some insight into an activity that I enjoy. I recently returned from some bicycling in Italy, mostly in the Alps and the Dolomites. The trip culminated with "La Maratona dles Dolomites", the biggest, most sought after "gran fondo" (The Great Ride) in Italy and maybe the world.
I am lucky to be married to a beautiful Italian woman, Anne Polino, who has relatives in Italy. That and having a job for 5 years that required frequent visits to Europe set the stage for me doing my favorite hobby in the best cycling location in the world. I have ridden in every province of Italy save Sardegna and Sicily, during a total of 16 visits to Italy. Along the way, I also rode in Sweden, Denmark, Netherlands, France and Slovenia. In July, 2000, our guide, Enrico, introduced me to a fabulous cycling event locally called "La Maratona". I was intrigued by the magnitude of the event. Where else can one combine scenery and suffering, while sharing it with 8,499 likeminded souls? However, there is a minor obstacle to participation ‐ Entry is by lottery. There are 8,500 entrants selected from about 20,000 applicants.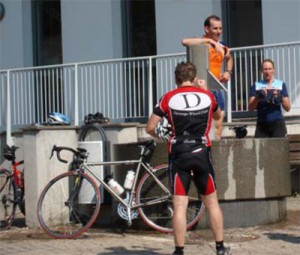 As fate would have it, in 2006 I stumbled upon a U.K. web site, Cycling Weekly, and found that they had scored 50 slots and were offering them first come first served! We quickly bought five slots. We started as a group of five but this year, my favorite cycle touring company, Ciclismo Classico had unprecedented interest and we used 20 spots!
In preparation for La Maratona we spent two days assembling our bikes and taking short rides (30 miles) as well as networking with others. On Tuesday, we rode to the Madonna di Ghisallo and visited a cycling museum, followed by lunch on Lake Como in Bellagio. Later we boarded a bus for Bormio where we were looking forward to the first challenge climbs of the trip, the Passi (passes) Motirolo and Gavia, both regularly used as tough stages of the Giro d'Italia.
Each ride begins in a beautiful valley and then ascends through fields of wild flowers, woods and pastures. At each turn on the way up, there were views of the valley far below. We took the "easy way" up the Motirolo, a climb with a maximum gradient of 11%. After a swooping descent to the valley, we stopped for a well deserved lunch. After lunch, we climbed the Gavia, with a maximum gradient of 16%! When we returned to the hotel, I was ready for a massage, dinner and bed. The massage was good. The dinner was better. The sleep was divine. It should be that way every day when riding in the mountains.
The following morning we had to climb Passo Stelvio, also know as "The King". While a longer ride than the previous passes, the Stelvio is a little kinder, with a more consistent grade. The great thing about going up is one gets to go DOWN, fast. There are lots of hairpin turns to navigate, along with an occasional tour bus going the opposite direction, touring motorcycles and the infrequent wayward cow, all of which adds up to, "There will be no site seeing on the descents!" After lunch, we got to ride 45 miles to Bolzano, "Gateway to the Dolomites", in the heat of the day, along some flat, busy roads, into an unrelenting headwind.
We were able to ease the work by making two Gelato stops and one fountain stop, where we pulled off the shoes and dunked our hot feet!
The following morning, we depart for Selva di Val Gardena, in the heart of the Dolomites. No trip is a trip unless you get lost. In our case, our guide got lost. After consulting someone at a restaurant, we rode 200 meters, went across the bridge and turned right ….onto the steepest hill I have ever ridden! Eventually we made it to the top got back on track and ended at our home for the next few nights, the Alpine Royal Resort Hotel.
This hotel has it all, as a 5 Star hotel should. Owned by the same family since opening many years ago, it caters to hikers, cyclists, motorcycle tourists, and skiers.
On Saturday, we took a shuttle trip to the finishing town, going over some of the road we would ride on the big day. Everyone got the big race pack with their numbers, instructions (in Italian and German!), and some goodies. Let's see, dog food from the sponsor of our starting group, coupons for said dog food, a brochure for the new saddle I will sure wish I'd bought before the trip and the all important numbers and timing chip so that my glorious assault could be recorded for viewing on the WWW.
La Maratona consists of three ride options, 34 miles and 5,800 feet of climbing, 66 miles and 10,000 feet of climbing and 86 miles and 13,700 feet of climbing. Unlike the other big rides of the week, there is no lunch stop and no gelato breaks. The event is a "timed cycling event". You can go as hard or as easy as you like, within some time cutoffs. The fastest finisher on the long course rides it in 4:30. I did it last year in 7:19! Quite a spread between that 29 year old former pro and this 59 year old former desk jockey! The course is set up so you get to make a choice between the short course and the other two courses when you come through the finish area after the first 34 miles. Along the way, the rest stops are atypical and include speck (ham) Paninis, fresh apple strudel, assorted cheeses and chocolate bars.
At the starting area we struck up conversations with folks from many countries, finding a common bond in our love of cycling, the equipment and travel. No talk here of politics, religion, sex or rock and roll…it was all about the bike. (Sorry about that, Lance Armstrong!)
At 6:45, with sunlight creeping into the valley, the starter's gun brings a hush. In the crowd, the sound of shoes clipping into pedals takes over from the cacophony of multilingual chatting. We start to creep forward, like a wave building, half walking, then pushing off with dab of the free foot, and finally on the saddle with both legs powering us forward and upward.
After finishing 70/277 in the old guy group last year, I have been training to improve to 50th or better. Unfortunately, I have been having some knee pain and it has not improved during the week. I decide to ride as if I will go the distance and make choices at the appropriate decision points. I also remind myself that being here with my trip mates and 8,480 of our fellow cyclo‐maniacs is the primary purpose of this escapade! Now I feel better.
One big difference between la Maratona and any ride I know of is that the roads are closed to cars. Yup, at one point or another, from 3AM to 5PM, some or all of 84 miles of roads are closed to the public! It makes descending fast an exercise in riding the bike, not looking out for an oncoming bus! There are those other folks to contend with, but for the most part it's like a dance. Some folks are incredibly faster than others; they make their way through the early traffic. No one shouts. No one collides. It might look like chaos, but it works.
As I start the 4th climb of the 7 on the course, my knee is talking to me, complaining actually. I decide I am going to call it a ride when I finish the first 34 miles. I feel a bit glum, but shake it off. This is no place to lose concentration. At the top of the 4th climb, traffic is thinning out and folks are pulling over at the rest stop.
This gives me the chance to go all out to the bottom and I take it. Exhilarating. I reach the finish area and my guides are there, having finished a few minute ahead of me. We cheer on the others in our tour group as they finish or pass to the next section of the course. While waiting, I get a text message. It's my results. Not bad: 12/240 in the old guy category. Then we have lunch and a beer.. and then a gelato.
At dinner that night, the last one of the trip, someone acknowledges me for initiating this tour, for pre trip coaching and for getting the tickets for the event. Another proclaims me "Director Sportif", the guy who runs a professional cycling team, to which there were hoots and applause. Nice. Despite my complaining knee, it's been an epic trip.
For more information see the following references.
Ciclismo Classico: www.ciclismoclassico.com
Climby Bike, a web site with the scoop on hundreds of climbs:
Passo Gavia: http://www.climbbybike.com/climb.asp?Col=Passo‐Gavia&qryMountainID=3133
Passo Motirolo: http://www.climbbybike.com/climb.asp?Col=Mortirolo&qryMountainID=11
Passo Stelvio: http://www.climbbybike.com/climb.asp?Col=Passo‐dello‐Stelvio&qryMountainID=38
La Courses of La Maratona dles Dolomites: http://www.maratona.it/en/
A handlebar video of La Maratona: http://www.youtube.com/watch?v=2F_C1K9yqao (10 minutes, watch at risk of your own equilibrium!) A slew of others, too.