Grace Moore-Linker – A Retiree Who Can Take the Heat
Edited by Elyce Wair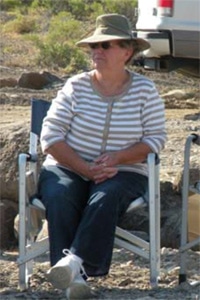 Intel retirees are amazing people. After 25 years of service, Grace Moore-Linker retired from Intel Aloha (Oregon) in 1995. Yes, I said 1995. Fourteen years later she and her husband are chasing wild land fires in California from June to November.
Back in the pre-Intel days, Grace worked at Fairchild Semiconductor in masking R&D where she and others like Andy Grove tried to develop the first memory chip. As history will verify, it didn't work. Fairchild would not continue funding, and Intel was born. Her technology roots run deep so it is no surprise that she followed Intel and spent her last years in Fab 4 as a Process Technician.
After retirement, Grace spent several years (1995-2001) providing 24/7 care for her ailing husband. During this time, she used her quilting skills to make crib blankets for Doernbecker Children's Hospital and Northwest Medical team. It provided her both a way to help others and a way to volunteer while still being available to meet her husband's health requirements.

After her husband passed away, Larry came into her life (2005) and later became her husband. Larry is a retired California fire fighter who introduced Grace into the world of fire control. Together they haul water to fire sites, do road rehab after fires, and provide water to hose lays for had crews cleaning up "hot spots". There are times when they are close enough to see the flames and feel the heat.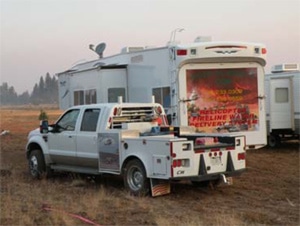 Their trucks are customized to include a special water filtering system that prevents weed seed transfer, protects fish, vegetation, and prevents spreading of the New Zealand Mud Snails and Invasive Noxious Weed Seeds. California is very strict in this area. All mobile fire equipment has to be decontaminated to prevent noxious invasive weed seeds from forest to forest. Fifty-five fire engines, water trucks, pickups, and buses were washed by noon during the "de-mob" process. Most of their work is around Northeast California: Cedarville, CA area. In early August 2009 they were in the Lassen Natural Forest between Hwy 44/89.
During the fire season, Gracy and Larry live in their 5th wheel, but when they are chasing fires they take the trailer to the fire camp or close by.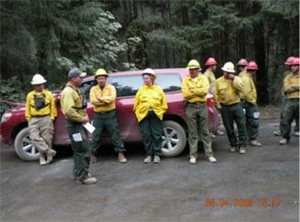 Meals are provided at the fire camps. "Thank goodness for air cards and dish satellites to keep us up with our email and favorite TV programs. Cell phones are a must to keep connected with our other world," says Grace. When I asked Grace what she enjoyed most about this job, she did not hesitate to tell me that they have met lots of wonderful fire fighters and team managers from almost every state and Australia.
This photo shows a post briefing discussion that is given by the Division Chief after each shift. In 2008 there were 1400 fires in that area and firefighters were called in to assist.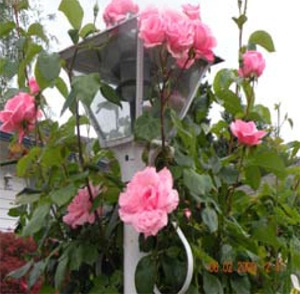 In February 2009 their two month "vacation" included family visits and client meetings. Grace plans on continuing her fire control activities and says it is "fun AND you get paid". So, what do you do in your spare time, I asked? "We work on www.wateronwheels.com and spend time editing our photographs." Both Larry and Grace love taking digital pictures. They also create advertising collateral for other contractors. Grace spends time gardening and is particularly proud of the rose bush that her daughter gave her 10 years ago.
If you have questions, you can contact Grace through email at grace@wateronwheels.com.