"I retired from Intel in December of 2007 after spending more than 26 years with the company. My career with Intel began in Santa Clara but I transferred to Folsom in 1984 where I spent the rest of my Intel career."
"One of the most memorable Intel experiences was to work in the Memory group as TME and be part of the flash intro with Andy Grove and Bob Noyce in Paris. I also worked in the Chip-set & Microprocessor validation groups, and a couple of start up operations: End User Component Division (EUCD) and Intel Verification Labs (IVL)."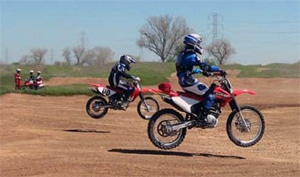 After retiring from Intel, Duc had an opportunity to work for Razor Audio Solution (RAS) as a COO. RAS was a start up company in Folsom designing super thin speakers for home theaters and hi-end audio solution. Unfortunately, the company ran out of funds after 18 monthsbefore they could take the products to the market. For those who might take on a similar challenge one key learning is to be prepared for lots of stress.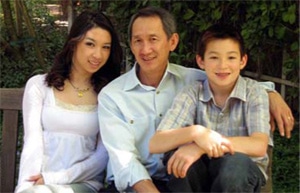 As an active retiree, Duc volunteers at his son's school where he chaperones field trips including a five day nature adventure where they live in cabins. He also accompanies groups on the river walk nature studies and is involved with the school's recycle program. Duc and Tien like to ride together as seen in this father/son jumping action.
With a daughter in her first year of college and a son in Jr. High, Duc enjoys his family time together, especially their annual camping trip.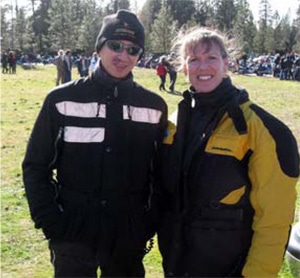 When time permits, Duc and his wife Michele hit the road on their BMW motorcycles. They clock around 15,000 miles a year on their bikes which includes a trip to Oregon, Washington, Idaho, and Montana. Imagine an 8-day trip and only one day of rain. Definitely a great trip!
As a new member of the board, Duc wants to establish regularly scheduled events for Folsom area retirees as well as increase the retiree organization membership in his area.
You can contact Duc at duc.ngo@comcast.net.