Yes, Virginia, There Is Life after Intel
By Bob Wasserman
After 25+ years at Intel, I decided to pull the plug and retire to be a full-time writer. June 3, 2009 was my last day. I had recently published my first book, "Why Good Love Goes Bad – The 13 Laws of Relationships," available on amazon.com, and am currently working on another, tentatively titled, "What Every Teenager Should Know About Love and Relationships (and Sex, Drugs, and Rock 'n Roll) or You Don't Know What You Don't Know." 2 others, a "gender generalizations" book, and a scary sci-fi novel about genetic engineering gone really bad are on the radar. I LOVE to write – it's my passion.

Shortly after retirement, I drove from our home in New Mexico, to Belgrade, Maine, where our family has had a lakeside, summer cabin for almost 50 years. It's the place where I keep my soul and always want to be, and where I'd already done a considerable amount of writing. So naturally, without the obligation to be in my Intel cube anymore, I headed to Maine. I stayed there for 5 months, leaving Nov. 30th, just days before the first hard freeze and big snowstorm. For the first week or two in Maine, my wife and kids, and their significant others/friends, and our dogs were with me. But after that it was just me and the dogs except for a visit by the occasional friend, neighbor, or relative. Even that trickle of human contact dried up by the end of October, until I found myself alone with the dogs, with the only sounds being the wind, the waves, the crackling of my fire, the hoot of an owl, the beat of an eagle's wings, or the wild lament of a Loon. Was I lonely? Not at all. I had all of the natural world for company (and the dogs). Did I miss my wife and kids (the youngest was 16 and still at home)? Absolutely, but I had some serious work to do. First on the agenda was healing the hole in my soul caused by 25 years of poor work/life balance and rediscovering my smile. A day after retirement, work was a distant memory (amazing how quickly I let go of it) – stress levels dropped instantly. But it took those 5 months alone in Maine to fully process the events of those 25 years – events which I was clearly aware of, but just as clearly hadn't allowed sufficient time to fully absorb.
Being at "camp," as Mainers call our down home lakeside cottages, was a chance to be with the ghosts of those I'd lost over the years – my parents, my brother, many Uncles and Aunts, and Grandparents. I took my Dad's old 16 mm home movies from the late 1930's to the early 1960's, and had them transferred to DVD, where I could actually watch them and see my departed family members as young, vibrant people, full of hope and dreams for the future. It was a time to return to origins – family origins and natural origins, in order to be able to comfortably move on. My wife, Patty, a teacher of sustainable living skills to children, often speaks of Nature Deficit Disorder, and I had it bad. After I left my cube for good, I couldn't stand to be inside. I slept on the screened porch, while the mosquitoes ruled the night, and in a hammock strung between 2 trees, as the fall chill reduced the mosquitoes' fervor.
I built a large firepit, by the lake, surrounded by a bunch of 2 foot diameter stumps, and sat in the cold rain at 1 AM, feeding even more wood to the fire, mesmerized by the blaze, while the dogs pleaded with their eyes and body language and occasional whimper: "Time to go in and go to sleep, right, Dad? Huh? Inside now, right?" I finally took pity on them and doused the flames – but VERY reluctantly.
I removed the front seat of our double kayak, and paddled the lake at sunset with both dogs – Flash, the 100 lb. Chesapeake Bay Retriever, lying between my legs as a lump of contented ballast, while Rice, the 30 lb rescue terrier cross, stood in the bow like an ornament, watching EVERYTHING.
I cut, hauled, split, stacked, and burned a huge amount of wood – burning it in the big stone fireplace in the living room in early fall, then in the wood stove in the kitchen as fall gave way to early winter. Except when the wind blew directly off the lake, I was comfortable, and some well placed insulation around the lakeside door, eased that.
I greeted the mail boat driver daily, until the route was suspended for the season in mid-September. He was always gracious although Flash continued to take his mail delivery efforts as imminent attacks to be vociferously objected to.
I spent much more time working with wood and on camp repairs, at the expense of writing and book promoting, than I meant to. I always stopped at dusk to watch the sunset, which kept coming earlier and earlier, as the earth moved inexorably towards its rendezvous with the winter solstice – sunset at 4 PM really put a crimp in my outside workday. Generally when the wind wasn't blowing off the lake, I'd fire up all the outside floodlights after sunset, and work some more. I was an old guy, who'd been getting fatter and softer for years, and I'd begun to reverse that trend – moving and splitting a couple of tons of oak logs will do that to you. My shoulders started to feel like they were chiseled out of something other than bone, muscle, and sinew, and my arms weren't far behind. Amazing, this human body – amazing what's actually recoverable.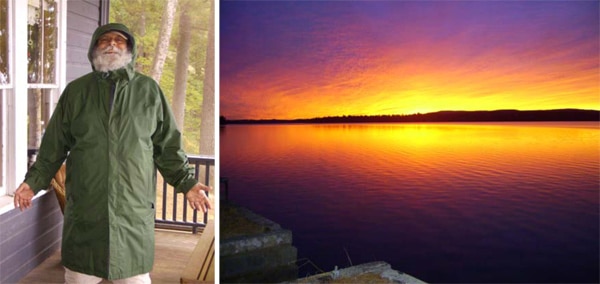 Long hikes in the woods with the dogs, accomplished similar structural changes to my lower body. I bought a mid-thigh length Gore-Tex shell at LL Bean (60 minutes "down the road a piece" – no locks on the LL Bean doors – open 7x24x365 every year). Gore-Tex: OMG!!! It's waterproof and it BREATHES!!! I mean it REALLY DOES! I'd seen it advertised for years, but stayed away from it because of the price. But let me tell you now:IT IS WORTH EVERY PENNY. I can hike through the woods for hours, in the rain (light or heavy) and be comfortable (dry and warm) without sweating. I don't have a lot of gear, but I love my LL Bean Gore-Tex shell!
Sunset was a time to marvel at the show that Nature seemed to be putting on for me alone. Colors without name blazed and were reflected in the lake. At sunset I often sat by the lake in the reclining oak Adirondack chair that I'd bought at Bean's with my 25 year gift certificate. (I'm going to use my retirement gift certificate to buy a matching chair for Patty.) I'd bundle up and catch the dying rays of the sun striking me directly and reflecting off the lake. Who knew Maine could be so pleasant with the temperature hovering around 40 degrees.
Sometimes I dozed off, and awoke only slightly chilled, which a few minutes by the wood stove or chopping wood, quickly remedied.
I saw bald eagles – they hunted from several tall (100' plus) pine trees along the lake shore, including the huge one right in front of our camp that my Dad always said could've been a mainmast for a great ship. I watched a family of 10 Canada Geese grow until the babies were indistinguishable from the parents. I saw fox, porcupine, deer, otter, and flocks of wild turkeys. Most days, I saw more wildlife than people. By the time I left Maine for the winter, my Nature Deficit Disorder was just a distant memory.
For years I'd had a sign over my desk with Thoreau's advice to "Simplify." And yet I found it hard to simplify until after I retired. I became a minimalist – taking/using only what I needed, and relishing the simplicity of my life. I became a huge "LOCALVORE" – a champion of all things local from businesses to farms. The local hardware store had better stuff, better service, and a better selection than the Home Depot – at comparable prices. I could park right by the door, and it was closer to camp. The local food was beyond belief. I bought most of my food at the weekly Growers' Market and found carrots, bell peppers, bread, milk, apples, potatoes, meats, etc., that had flavors I hadn't tasted since childhood. I relished making meals, and sitting on the screened porch overlooking the lake or in the Adirondack chair by the lake (even in cold weather), and eating them.
Although my retirement wasn't the soundest financial decision I've ever made, and if I don't sell some books, I'll have to get another day job (probably in alternative/sustainable energy), I don't regret it. The thought of leaving Intel after 25 years, with 2 kids in college and another about to start college, was terrifying. But the exhilaration, and rediscovery of the magic of life (colors were brighter, smells were stronger – REALLY!), more than compensated for the trepidation the leap into uncertainty created. I don't know what it would be like to retire to a "life of leisure" – that no longer sounds good to me. I'm excited to be alive again, and enjoying my life as never before. Here's hoping you're finding your retirement as rewarding and fulfilling as I'm finding mine. Carpe Diem, y'all!
Bob can be reached at bobwasserman@aol.com