Edited by Elyce Wair
If you like photography and the outdoors then John Coutu is someone you want to get to know. John is always multitasking and carries his camera on hikes, while traveling, even while kayaking. Maybe that is why he has 40,000 plus pictures on his computer. AND, they are all in organized folders.
John retired from Intel Oregon in 2002 as an Engineering Team Lead/Program Management in the software area so it is easy to understand why he has great organizational skills. But there is a lot more to John Coutu retiree extraordinaire. John was determined to see that his digital and film photos were shared so he spent the equivalent of three months of full time (40 hours/week) work hours per year for three years creating three albums for each of his five children. After achieving his goal, he is now focused on albums for each of his seven grand children. John has some sage advice for anyone attempting this feat – start when the kids are young and develop folders based on each person, not a massive "family" album. It will save you weeks of work later.
John has been a member of the Intel Retiree Board for the last seven years and continues to contribute as a member of our Web committee. As web committee chair in 2007, John was instrumental in managing the design and implementation our website. He is now focused on porting our existing site to Joomla which will provide additional security and features.
John's photographic skills have provided some unique volunteer opportunities. He was asked by his church to provide "respectful" photos of the homeless in Portland to be displayed during their auction/fund raiser. John provided 16 poster-sized black and white pictures that visually and emotionally showed the life on the streets. After the event, John was told that his photos had pushed the contributions over the top. The funds will help provide meals for over 300 homeless. The photos are currently displayed at St. Francis Church in Southeast Portland. He has since signed on as the "official" photographer for another church affiliated group.
To maintain his health and love of the outdoors John has started a 10,000 step per day regimen which he calculates it to be about 5 miles of walking (depending on your stride) and after six weeks is feeling the positive results. Portland Dept. of Transportation has a great program for neighborhood walks which is accompanied by an historian who provides valuable insights. They even provided a starter kit that included a pedometer and book called Walk There!. John and his wife, Maryellen, participate weekly in these walks but John John & Maryellen Coutu -Angel's Rest, Oregon Homeless Angel's Rest, Oregon Ramona Falls, Oregon maintains 10,000 steps seven days a week for maintaining a moderate level of health. For more information on walking resources, visit www.oregonmetro.gov/walk.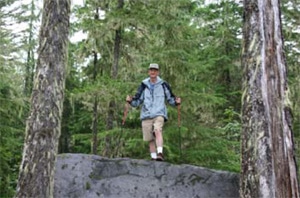 John developed his enthusiasm for hiking four years ago while training for a personal hike that would require a 3,000 foot elevation gain which is definitely not for novices. You can find John anywhere that great photos can be taken. He has explored Central Oregon, Mt. Hood area, Mt. St, Helens, Silver Creek Falls, and several areas in the Columbia Gorge in both Washington and Oregon. While John and Maryellen enjoy going with a group, they sometimes find it hard to coordinate schedules with others.
Kayaking is another favorite outdoor activity for John and his wife. They prefer the quiet peaceful areas where you can take time to enjoy the birds and explore the wild. John owns his own kayak and at 30 pounds, finds it easy to carry.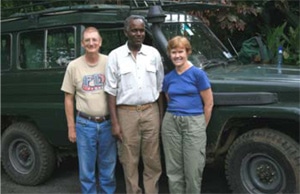 Did I mention John and Maryellen have a fabulous garden that is laden with fruits, vegetables and flowers? It is amazing how many plants they have eked into a small area. Their back yard is a place of tranquility and introspection combined with beauty and abundance. And then there is John the traveler. He has explored miles of dirt roads in Africa that brought him to the Serengeti in Tanzania. With a personal guide, he and Maryellen were able to view and photograph animals in the wild – the best part of the trip according to John.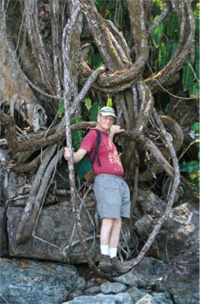 Because Intel retirees have shared their stories with others in our newsletter and on our website, John was able to connect with Cheryl Pruss who lives ½ time in Puerto Rico. Cheryl shared information that made John's trip to Puerto Rico fabulous. Tips and tricks from others can make a big difference in the outcome of your travel. Then there is the other John Coutu. Snow bird! John spends winters in Florida on the gulf coast and lives a very different lifestyle. His condo provides a close knit community where friends and social activities abound. Instead of a quiet walk in the woods, John and Maryellen enjoy all the festivals, museums, biking and spending time night clubbing and enjoying music. Among John's favorite festivals is the Gasparilla Pirate Parade which is the Florida equivalent of Mardi Gras. This activity is not for the faint of heart. On one occasion John was given a bloody nose by a woman who was reaching for beads that were thrown from one of the floats.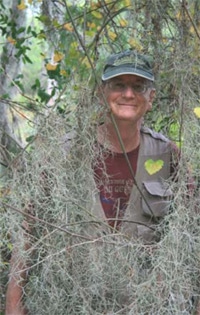 If you have questions or would like to connect with John, he can be contacted at j_coutu@yahoo.com. Note the underscore between j and coutu.