Create your Intel Retiree Business Cards
The Intel Retiree Organization has worked closely with Intel with to goal of developing a retiree "business" card that could be used to provide personal contact information while showing the retiree is a member of the "Intel Family".   As you know Intel is very protective of its logo and how its name is used which limited our options on having the card look similar to an Intel Business card.   The resulting business card design has been approved by Intel and the Intel Retiree Organization Board.    This is how the card looks: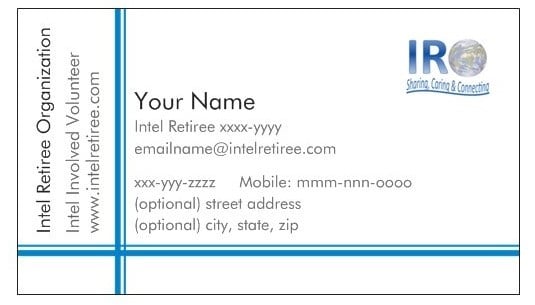 To create your personalize card:
Go to Vistaprint.com
Select "Business Cards"
Pick the quality of card you want and then "Get Started"
Choose "Browse Our Designs" and enter keyword "898410″ to access the approved template
Select the first design and fill in the fields as shown in the example above (you may customize anything but the Intel Retiree Organization field).
Add an Image.  If you plan to use the IRO logo (as shown on the example), you will need to download it to your device. To download the IRO logo image file from the IRO website: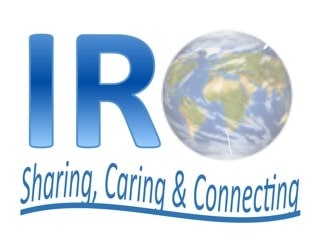 Click on the above IRO Logo
Right Click on this actual logo (IRO-logo.jpg) and save image (IRO-logo.jpg) to your device.
Select the Image Icon on "Customize Your Standard Business Card – Front Side" and navigate to the downloaded location of the IRO logo on your device.  You have the option to use a different image, if desired.
7.  Continue through the rest of the design, selecting other products if desired and set up an account to pay for your purchase.
You're done!