Ed began his 26 year Intel career as a new college graduate in 1979. He started as a manufacturing test engineer, moved into design engineering roles of various circuit boards and application specific integrated circuits. He became an engineering manager and project leader for the second half of his career before retiring in 2005 after helping to validate the Prescott and Cedarmill processors.
Ed and his wife of 30 years, Ann, have a long tradition of loving the water. Both of them grew up in Michigan with grandparents owning cabins with rowboats, canoes and speedboats near the lakes. Ed's father owned a cabin-cruiser for 30 years. As a youngster and teen he enjoyed cruising the Great Lakes for four to five weeks each summer. He helped with varnishing, sanding, painting, and mechanical work for many a weekend while his friends were playing baseball. However, he accepted the chore aspect because he loved boating.
Anxious to find something to do together in retirement, Ed and Ann rented a boat and found they enjoyed sailing. "After enjoying our little sail and impressed with my skills we began sailing lessons in Portland determined to take our family on a bareboat cruise (rent a boat, captain it yourself). We took three courses in three months. We then rented a sailboat in the British Virgin Islands and along with our four children and Ed's mother sailed for 10 days."
There is a west coast migration of cruisers that occurs in the fall as boaters head south into Mexico for the season or longer called the Baha-Haha. Ed and Ann managed to secure passage as crew for a young couple whose insurance required experienced sailors to help them down the coast. They spent 10 days on this trip from San Diego to Cabo San Lucas and they loved the adventure. "Traveling to new locations and meeting new people was great. We decided to start looking for a sailboat."
"Ann and I took the big plunge to buy our first boat in 2006 when in a weak moment she said those words I desperately wanted to hear, "we should buy a boat". Knowing that she could change her mind at any moment, I quickly located a great boat at a price we could afford and we quickly became boat owners. We are now part of that rare breed who enjoy shopping at marine stores and unflinchingly pay large sums to keep her afloat. This is the story of how we began, why we continue to boat, what it takes in terms of effort and money, and our future plans. "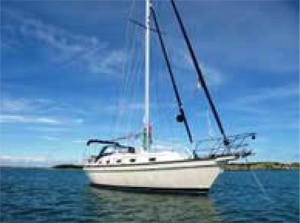 "We found our boat in Miami, Florida in February 2007 and renamed the 38ft Island Packet Windswept Dreams." Although they thought they would take her through the Panama Canal on the first 3 months of ownership, retrofitting with a new GPS and learning more about sailing made the trip unrealistic. "Our longest trips have been to the Florida Keys where we spent 3 months sailing in the Bahamas in 2008 and 5 months in the Bahamas in 2009. Although 38 feet is a very small space for us, we enjoy the minimalist lifestyle, the adventure, the challenges, and meeting new people. We have certainly become closer even after 30 years of marriage. We work together as a team and rely on each other totally.
Sailing is a great challenge and so much more than putting up the sails and dealing with the wind. It is an active lifestyle that requires planning, teamwork, patience, physical strength, agility, knowledge and money. Everyone appreciates the result of all the hard work when the day is breezy, sunny, warm, and everything is going right. It takes a lot of effort to get to that point and all your skills when the weather turns bad or something breaks. As an engineer it gives me plenty of chances to problem solve both on and off the water. A cruising sailboat has mechanical, electrical, refrigeration, and plumbing systems all of which are under attack from the elements – particularly salt-water. We must be very resourceful or be prepared to pay top-dollar for fixing mundane problems. The work is never done; one must be prepared to pay 15-20% of the boat's worth every year on average to keep her ship-shape.
"We moved the boat up to Georgia where she stays on the hard (land) during the summer. We spend five months in the Bahamas from December to May. Mostly, we anchor out (it's free!) and socialize with other boaters. There are about a 1000 cruising boats in the Bahamas during the winter. The majority of sailors are in their 50s or 60s but there are young families and older sailors too. We are acquainted with many boaters and have made great friends. We are better prepared to go a little farther off-shore so next season will probably find us in the Caribbean sailing with some of our friends who are encouraging us to join them and explore the islands farther from home together.
We have accepted the challenges of sailing and we are extremely pleased to be cruising sailors. We look forward to venturing around the Caribbean and to Europe one day. After that, time will tell. We have no grandchildren [yet] and our children are mostly autonomous.
I do miss my social groups and friends but try to keep in contact with them via a blog."
Edwin can be contacted at ejacks2@comcast.net.