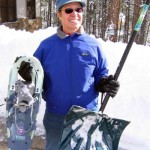 Flagstaff, Arizona, which is where I now live with my husband and our dog, is about 150 miles north of Phoenix. What many people, unfamiliar with Arizona, don't realize is the elevation of Flagstaff is nearly 7,000 feet, making it one of the highest altitude cities in the United States. That was part of the appeal for me; I wanted a place to live that has four seasons. And, yes, I do think about this when I'm shoveling eight inches of snow off the driveway. We have a house amid the ponderosa pines.
Flagstaff is the home of Northern Arizona University, Lowell Observatory, an arboretum, the Flagstaff Medical Center, the United States Naval Observatory, the Snowbowl ski area, and an excellent symphony. Route 66 runs through town, and we are only 70 miles from the Grand Canyon, making the city a major tourism site. It is also the home of the Museum of Northern Arizona (MNA)—another three-letter acronym!–, where I spend much of my volunteer time.
MNA is a great museum dedicated to inspiring "a sense of love and responsibility for the beauty and diversity of the Colorado Plateau through collecting, studying, interpreting, and preserving the region's natural and cultural heritage." (..From MNA's mission statement). The Colorado Plateau is a 130,000 square mile area across the states of Arizona, New Mexico, Colorado and Utah.
Because of my experience at Intel which included years of training and presenting among many other things, MNA was eager for me to become a docent my first year here. But I resisted, as I wanted time to settle in and I wasn't ready to jump in with both feet. Instead I took a course at the community college entitled "Colorado Plateau studies." Everything about the area was new to me, so I had much to learn. I decided if I liked this content, I would consider being a docent.
Meanwhile I did volunteer at the museum starting the summer of 2007 in their collections (archives) library. For two years I sorted, located and documented photographs and negatives. I loved it, as I have always enjoyed photography, and I got to see many incredible photographs from as far back as the late 1800's, and some by famous people such as Edward Curtis. A year ago I entered the docent training, which is a six-month program. This was a huge learning curve for me. MNA has several galleries about Colorado Plateau geology, ethnology, archaeology, paleontology, jewelry, Kachina dolls, and pottery. There is also an art gallery, which changes exhibits three to four times per year. So we docents have to be able to present information in all these areas. We do public tours and scheduled tours for school children. Everything good that has happened to me since my arrival here has been due to the museum; I have made many fun and interesting friends who have helped me network in the community. The museum's website is www.musnaz.org and they are on Twitter and Facebook.
When I am not volunteering, I am outdoors with a local walking group or in the winter snow-shoeing with this same group or on a ranger-led interpretive hike during the warmer months. My big goal for this year is to complete a first draft of a children's book I am writing.