FROM THE BOARD – Barb Frank, President
HAPPY HOLIDAYS FROM YOUR INTEL RETIREE ORGANIZATION VOLUNTEERS!
We hope all of our members have safe and happy holidays. Your Board and all our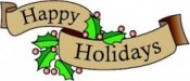 volunteers will be taking a holiday break and not publishing a full News Flash for January. Thank you to Sharon Bernier, our News Flash editor, for all the work she puts into our monthly publication. Regular News Flashes will resume in February.
HEALTH/BENEFITS COMMITTEE – Cheryl Pruss, Chairperson
INTEL'S COMPREHENSIVE ANSWER TO IRMP QUESTIONS
With healthcare choices and costs so much in the news today, it's not a surprise that an Intel retiree recently asked in one of our Annual Dinners: Why are the Intel Retiree Medical Plan premiums high? Why are there two pools – one for employees and one for retirees? Who negotiates this? Is combining the pools an option? We took the opportunity to ask the Intel Benefits Manager who supports retirees to assist us with a comprehensive answer to this question. Click here to read the article.
COMMUNICATION COMMITTEE – Debbie Watson, Chairperson
TOM FRANZ – "RETIRED" AND ONTO A SECOND CAREER


Our series of executive interviews continues with Tom Franz who, although retired from Intel in 2007 as Vice President and General Manager of Fab/Sort Manufacturing, is not even close to retiring from the workforce! Catch up with Tom and read about his second career.
VOLUNTEER COMMITTEE – Ben Manny, Chairperson
DEADLINE FOR REPORTING 2013 INTEL INVOLVED HOURS IS JANUARY 15
This is a reminder to submit your volunteer hours for the Intel Involved Program, by January 15th, 2014. This Program description page also contains a link to the current 2012 Payout Report, dated November 4th. A final report is expected and will be posted when received. Comprehensive tips on how to report hours are found here. For 2012, 126 (or less than 3%) of Intel retirees reported 38,011.5 Intel Involved volunteer hours for 190 different organizations.
SITE UPDATES
ARIZONA – The Ocotillo Golf Club hosted our third annual business update and dinner where we were excited to hear Doug Davis speak to retirees about the "Internet of Things". Read a recap here.
BAY AREA – Mark Henninger, Director of Investor Relations was the guest speaker at the annual dinner. Read about the event here and see all the attendees.
NEW MEXICO – The Intel Retiree Organization invites you to join our quarterly lunches in 2014. Catch up with your fellow retirees and share the latest news from the Board that impacts our opportunities as Intel retirees. We also want to find and support local retiree activities. As our group becomes more active, we increase our opportunity for an Intel annual dinner. The lunches are held the third Thursday each quarter. See our calendar for more information. For any question or inputs, contact Abigail Scott at 505-332-9144.